470 planes, $80 billion, largest-ever deal: Air India to revamp fleet with huge Boeing, Airbus orders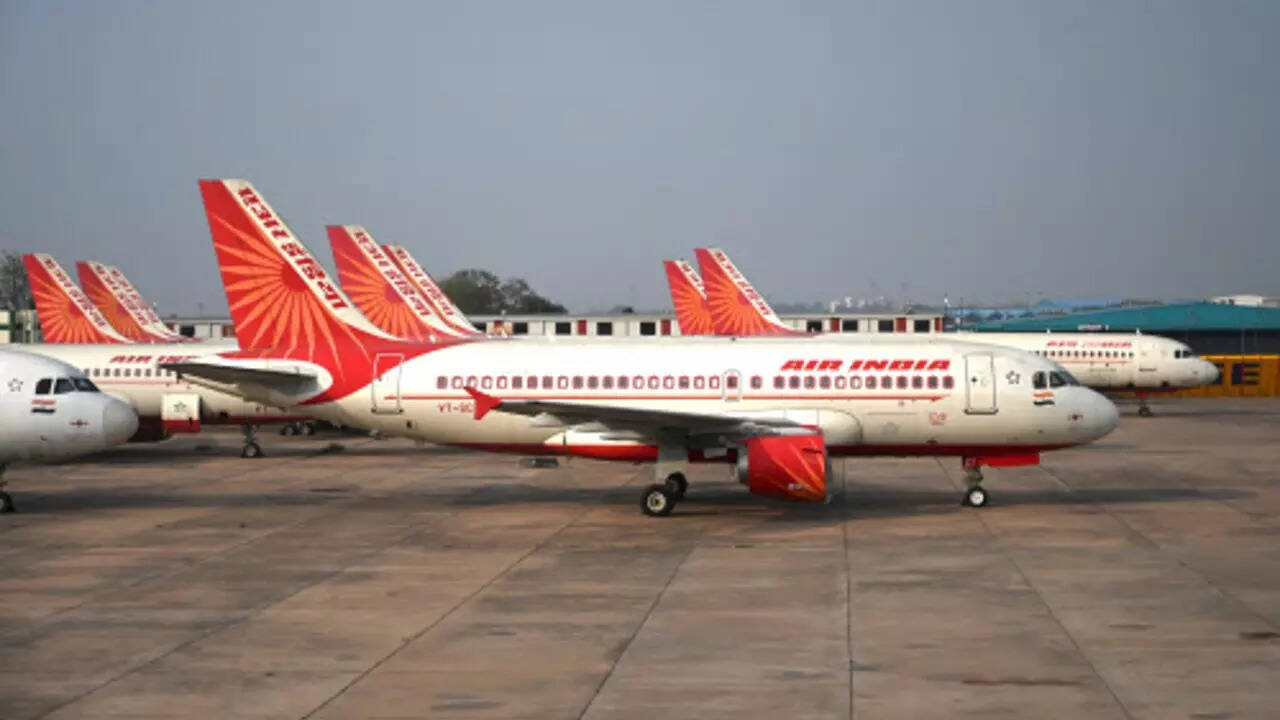 NEW DELHI: Air India has finally unveiled its comprehensive transformation plan to once again establish itself as a world-class global airline with mega 470 aircraft deal.
In what is being termed as the largest purchase in commercial aviation history, Air India on Tuesday announced a combined purchases of
470 aircraft from Airbus and Boeing
.
According to sources quoted by PTI, the deal would cost the airline a whopping $80 billion.
For many years, Air India was under the ownership of the government. In January 2022, the ownership went back into the hands of its original owner, the Tata Group.
Few months into the acquisition, the conglomerate had already formulated a plan under new CEO Campbell Wilson to revamp its fleet and increase market share over the next 5 years with an eye on sustaining growth, profitability and market leadership.
The deals include 220 planes from Boeing and 250 aircraft from Airbus.
The record order aims to put Air India in the league of large global airlines and make it an influential customer for planemakers and suppliers at a time when its home market is seeing a strong post-Covid travel surge.
According to Air India, the first of the new aircraft will enter service in late 2023 and the bulk of the planes are to arrive from mid-2025 onwards.
"In the interim, Air India has already started taking delivery of 11 leased B777 and 25 A320 aircraft to accelerate its fleet and network expansion," it said.
Mega announcements
The Air India-Airbus deal was announced in a virtual meet by Prime Minister Narendra Modi and French President Emmanuel Macron. Tata Sons chairman N Chandrasekaran, chairman emeritus Ratan Tata, among others were also present at the announcement.
Meanwhile, the $34 billion worth deal with Boeing was announced by the US President Joe Biden in a formal statement released by the White House.
The Boeing deal marks the US plane maker's third-largest sale of all time, in dollar value, and its second of all time in quantity. The order includes 190 737 Max aircraft, 20 of its 787s, and 10 of its 777Xs. There is also customer options for an additional 50 737 MAXs and 20 of its 787s, which would make it 290 airplanes for a total of $45.9 billion at list price.
On the other hand, France-based Airbus will provide Air India 40 wide-body A350 Airbus aircraft and another 210 narrow-body A320neo planes. However, it has not disclosed financial terms of the deal.
Tata Sons chairman Chandrasekaran said the A350s will be used to "fly all ultra long distance across the globe." Single-aisle A320s are typically used on short-haul routes. He said the airline has "significant options" to increase its order.
'Landmark deal', says PM Modi
Stating the Air India-Airbus agreement to be a "landmark deal", PM Modi said it reflects the deepening ties between India and France, as well as the successes and aspirations of India's civil aviation sector.
He also said India's growing aviation sector would need over 2,000 aircraft in the next 15 years.
"Our civil aviation sector is an integral part of India's development. Strengthening the civil aviation sector is an important aspect of our national infrastructure policy," he said.
In a tweet, Modi said, "I thank my friend @EmmanuelMacron for joining me at the launch of an important partnership between @airindiain and @Airbus that will further strengthen the Indian aviation sector and create opportunities in both nations. This reflects the robust Indo-French Strategic Partnership".
On the deal with Boeing, PM Modi spoke to US President Joe Biden and termed the Air India-Boeing deal to be a shining example of mutually beneficial cooperation that will help create new employment opportunities in both countries.
Prime Minister Modi had a "warm and productive" phone call with US President Biden, a statement issued by the Prime Minister's Office (PMO) said.
The two leaders expressed satisfaction at the deepening of the India-US Comprehensive Global Strategic Partnership, which has resulted in robust growth in all domains, the PMO said.
Both PM Modi and President Biden welcomed the announcement of the landmark agreement between Air India and Boeing as a "shining example of mutually beneficial cooperation that will help create new employment opportunities in both countries", the statement said.
Macron calls it a 'milestone'
France President Emmanuel Macron said Air India's deal with Airbus for the acquisition of 250 aircraft was one of the milestones of the in-depth strategic and friendly partnership between India and France.
"This achievement shows that Airbus and its partners, including Safran, are fully committed to develop new areas of cooperation with India and we have achieved so much with India in a wide range of sectors from space to cyber, from defence to culture, from health to energy transition," he said.
The French President said Airbus was contributing to the outstanding development of India and the new 250 aircraft which will be delivered to Air India will be one more step in this direction.
"There is a deep commitment in France to provide state-of-the-art and the most efficient technologies available to India and to be part of the Made in India strategy," he said.
Joe Biden hails mega deal
US President Joe Biden also hailed the deal between Air India and Boeing and said it reflects the strength of the US-India economic partnership.
"The Boeing purchase will support over 1 million American jobs across 44 states, and many will not require a four-year college degree," Biden said.
Later in a call with PM Modi, Biden welcomed the landmark announcement.
He also congratulated on the first meeting of the initiative on Critical and Emerging Technologies (iCET) held recently in Washington DC, and expressed a keen desire to strengthen bilateral cooperation in space, semi-conductors, supply chains, defence co-production and co-development and knowledge and innovation ecosystems, the PMO said.
They agreed to bolster the vibrant people-to-people ties between the two countries, which have been mutually beneficial, it said.
The two Leaders agreed to remain in contact during India's ongoing G20 Presidency to ensure its success, the statement said.
'Historic moment for India,' says Airbus CEO
"Today is a historic moment for India, for Air India and for Airbus," Airbus CEO Guillaume Faury said in the call. The size of the order "demonstrates the appetite for growth in the Indian aviation industry. It's the fastest growing in the world."
Remi Maillard, president and managing director of Airbus India and South Asia, said the company was very proud that the Tata Group has chosen A350 and A320 planes for Air India, adding that the magnitude of the order shows the appetite for growth in the Indian aviation industry, which is the fastest growing aviation market.
"A320 neo is the poster child of democratisation and transformation of the commercial aviation industry in India. This Air India order marks the emphatic return of Airbus in the wide-body market in India. It is a validation of the A350 leadership position in the wide-body market," he told PTI in an interview.
Currently, around 470 commercial aircraft of Airbus are in service in India. With the latest order from Air India, the total order book of Airbus for India will be around 850 planes.
Order placed for 800 LEAP engines
GE Aerospace said it has signed a deal with Air India for the largest LEAP engine order of more than 800 LEAP engines for the airline's orders of 400 Airbus and Boeing single-aisle aircraft.
Besides, GE Aerospace has an order for 40 GEnx-1B and 20 GE9X engines as well as multi-year engine services agreement with respect to 20 Boeing 787 and 10 Boeing 777X aircraft.
"Air India also announced a CFM order for more than 800 LEAP engines, the largest LEAP order ever, to power its entire narrow-body purchase of 210 Airbus A320/A321neo aircraft and 190 Boeing 737 MAX-family aircraft. The announcement includes a multi-year CFM services agreement," it said in a release.
Transformational journey
Tata Sons and Air India Chairman N Chandrasekaran said the airline is on a large transformation journey across safety, customer service, technology, engineering, network and human resources.
"This order is an important step in realising Air India's ambition, articulated in its Vihaan.AI transformation programme, to offer a world-class proposition serving global travellers with an Indian heart. These new aircraft will modernise the airline's fleet and onboard product, and dramatically expand its global network," he said.
The airline, which was piloted by industrialist JRD Tata in 1932, had become a loss-making entity under government ownership. It was nationalised in 1953 and split into domestic and international carrier.
In March 2018, the government planned to sell a controlling stake, along with roughly $5.1 billion of the carrier's debt. The proposal got delayed multiple times. It was even shelved few months later due to lack of bidders.
Finally, after many attempts, government sold 100% stake to Tata Group for a bid of Rs 18,000 crore ($2.1 billion) in January 2022.
Tata in November last year announced the merger of Air India with Vistara, a joint venture with Singapore Airlines, to cement Air India as India's largest international carrier and second largest in the domestic market after IndiGo.
(With inputs from agencies)