Ather Energy to manufacture 10 lakh more electric scooters: Eyes new EV factory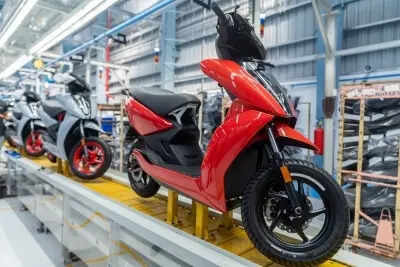 As electric two-wheeler adoption sees some stabilisation after several fire incidents last year, leading EV player Ather Energy said on Sunday that it is in talks with various state governments for establishing an additional factory to meet the demand.
Ravneet Phokela, Chief Business Officer (CBO) at Ather Energy, told IANS that the company is ramping up manufacturing output and planning to add 10 lakh units capacity, in addition to the 400,000 annual capacity that it currently has.
"To drive faster adoption of EV, we continue investing in public fast-charging networks. With around 1,000 chargers installed across the country, we already have the largest fast-charging network for two-wheelers in the country, and this number continues to grow," said Phokela. Bengaluru-based Ather Energy registered sales of 9,187 units in the month of December last year, a 389 per cent (on-year growth).
LML Star electric scooter हिंदी walkaround | Zero booking amount & 360-degree camera | TOI Auto
According to Phokela, they ended 2022 with strong sales momentum, and despite an industry dip of almost 40 per cent in two-wheeler sales, "our December retails grew by 26 per cent over November".
The EV industry has witnessed strong support from the central and state governments to quicken its adoption. The Central government has introduced various progressive policies that focus on driving both demand and supply side of the equation.
The FAME-II policy, the introduction of PLI schemes for manufacturing, and lower GST are among several initiatives that have been rolled out to meet the government's long-term vision and focus towards making India a global EV manufacturing hub. State governments have contributed by way of additional subsidies, waiving road tax, and offering sops for manufacturing, etc.
"These initiatives have made switching to EVs more lucrative and financially viable in the country, for both consumers and manufacturers," Phokela noted. The Ather 450X EV platform is widely-recognised as a benchmark for quality, safety and reliability.
"There is a strong and growing demand, and our focus right now is to expand our geographic footprint and distribution to meet this demand. We will continue to expand our retail network to make our products accessible to more consumers," the Ather CBO told IANS.
Currently, the EV startup has 90 experience centres across 73 cities. "We will be opening about 150 experience centres in 100 cities by March 2023, especially in Tier 2 and 3 cities, as we have been witnessing strong demand for our scooters in these markets," informed Phokela.
In addition, Ather is setting up AC slow-chargers in semi-private locations such as apartment complexes, offices, colleges and tech parks, etc. "We believe with a combination of public fast-charging and a dense network of AC slow-chargers, we will address any charging anxiety that consumers might feel today," Phokela said.