In Tesla securities fraud trial, Elon Musk testifies he's truthful on Twitter, just not 'comprehensive'
When Elon Musk posts on Twitter about Tesla, he must follow the same federal regulations that apply to corporate disclosure, the mega-billionaire acknowledged in court testimony on Friday.
But just because he tweets something, he said, it "doesn't mean that people will believe it, or act on it."
And though he insisted his tweets are truthful, "you can be truthful, but can you be comprehensive? Of course not."
The controversial Musk is entwined in yet another lawsuit, this one a class action filed by Tesla shareholders who claim they were financially harmed by an Aug. 7, 2018, Musk tweet that stated he had "funding secured" to take the company private at $420 a share — which indicated a deal worth about $80 billion.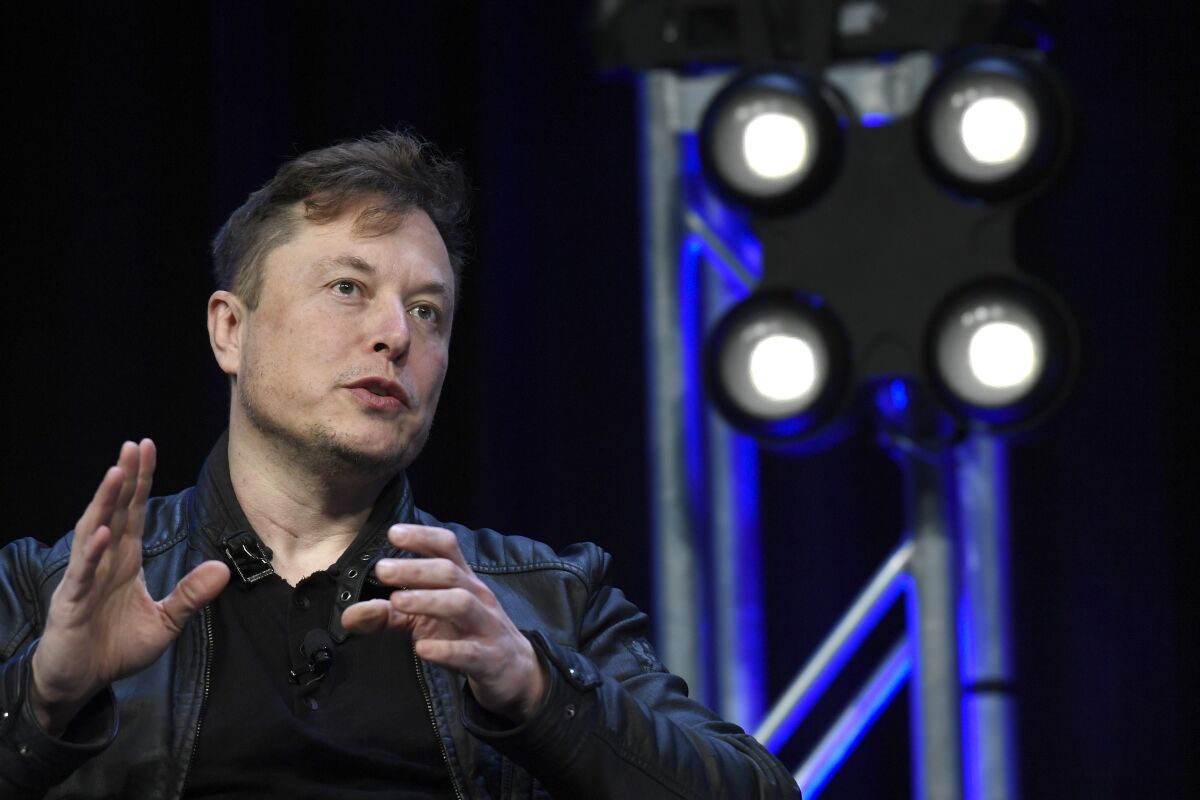 In the weeks that followed Musk's tweet, Tesla's stock market value whipped up and down by $14 billion, causing many investors who had bet that the deal was real to lose money.
Some of those hit hard were short sellers, who bet that a stock price is too high and who profit from its decline. Questioned about those investors, Musk called short selling "evil" and said the practice should be outlawed.
Musk rejected the idea that there's necessarily a link between his tweets and Tesla's stock price. He testified that he recalled a time when he tweeted that he thought Tesla's stock price was too high, and instead of going down, it climbed even higher. (Musk tweeted that opinion on May 1, 2020; by the close of the day's trading, shares had lost more than 10% of their value.)
Musk's testimony lasted only about 30 minutes before the court adjourned. He'll take the stand again on Monday morning.
Before Musk's testimony, a Harvard business professor called by the plaintiffs as an expert witness deemed the whole episode a startling example of "egregious corporate governance."
The professor, Guhan Subramanian, based his testimony on research into more than 60 take-private deals, also known as management buyouts. He called the Musk proposal, real or not, "an extreme outlier." He used the words "incomplete," "preliminary," "incoherent" and "illusory." Almost never does a chief executive announce a deal publicly until a long process — lasting weeks or months and involving a special committee of a board of directors, lawyers, bankers, financiers and eventually shareholders — is complete, Subramanian said. "You'd want the board to manage this, not the CEO."
Even though Musk's reputation for wild tweeting was well established (he'd previously called a critic of his a "pedo" from his Twitter account, which led to a defamation trial against him in 2019 that Musk won) the board never set up guardrails to protect the company from repercussions from his tweets. The board didn't even address the matter until nearly a week after the "funding secured" tweet.
"The lack of guardrails is deeply troubling as a lack of corporate governance," Subramanian said.
Meanwhile, Musk's lawyers have been arguing that Musk sometimes uses "the wrong words" when he tweets. On Friday, they focused on another tweet that came after the "funding secured" message in which Musk discussed allowing existing Tesla shareholders to own a piece of the private company.
Those words, Musk's lawyers said, indicated that the buyout was not yet a done deal.