NATO, Ukraine, Congress: Complex issues roil U.S.-Turkey relations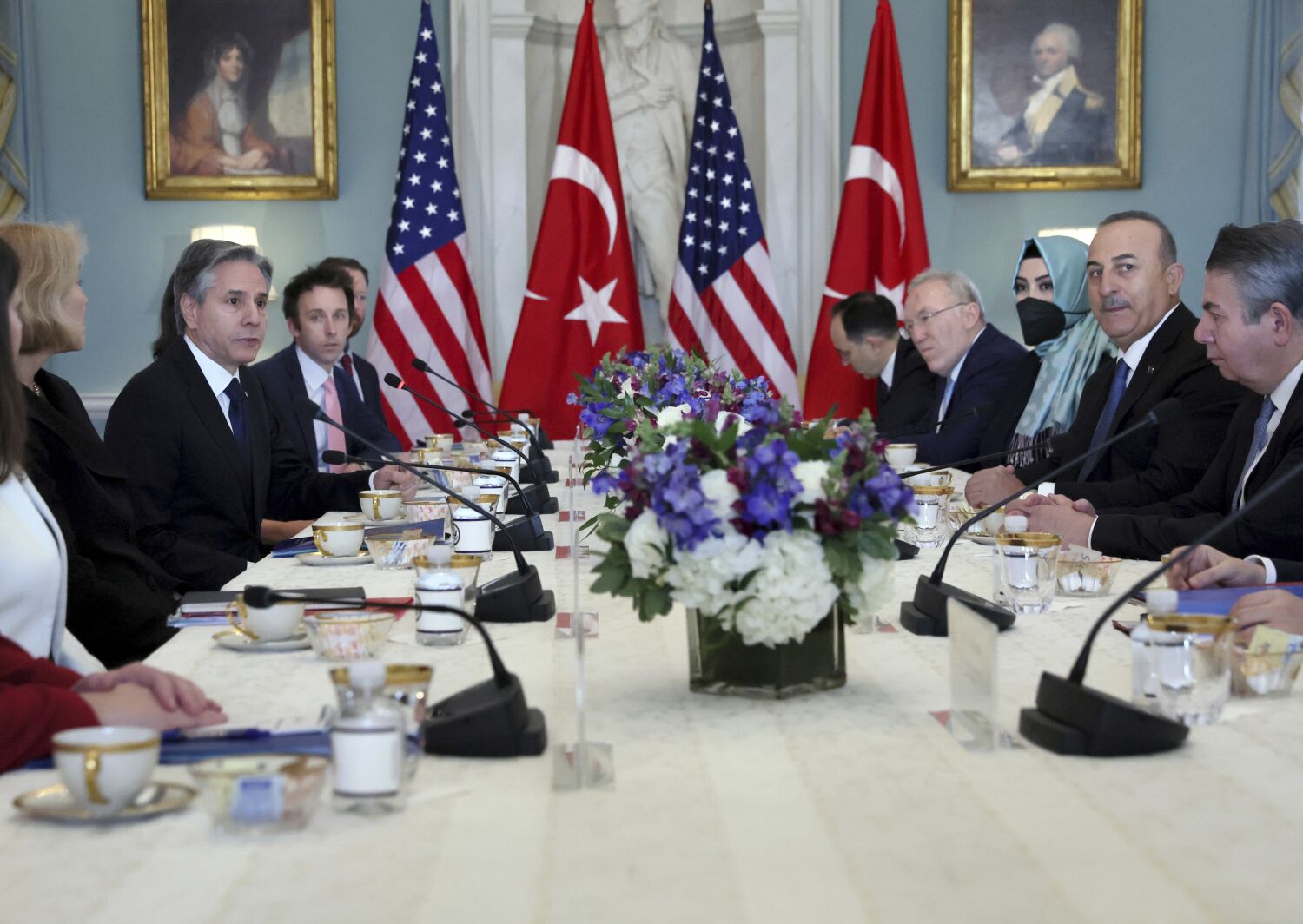 WASHINGTON — 
The United States is locked in a delicate dance with Turkey, one of its most problematic allies, that involves fighter jets, the North Atlantic Treaty Organization, Congress and, ultimately, the war in Ukraine.
Turkish Foreign Minister Mevlut Cavusoglu, in Washington this week to meet with U.S. officials, wasted no time in putting front and center his nation's demand for U.S.-made F-16 warplanes.
"We will address significant topics about bilateral defense cooperation, particularly our F-16 request," Cavusoglu said ahead of the meetings, as Secretary of State Antony J. Blinken looked on, stone-faced. "This is not only for [Turkey] but also important for NATO and for United States as well, so we expect the approval in the line with our joint strategic interest."
Administration officials last week issued an "informal notification" to Congress that a $20-billion sale of F-16s to Turkey was in the works. But the idea that approval for such a sale might be forthcoming is not widely shared at the State Department and the White House.
Powerful U.S. lawmakers are blocking new arms sales to Turkey, citing the government of President Recep Tayyip Erdogan and its increasingly authoritarian turn away from democracy, its repression of dissidents and minorities, and its menacing of neighbors.
But Turkey can block something that the U.S. and most of the West dearly want: the expansion of NATO to include Sweden and Finland.
As a member of NATO, Turkey has veto power over allowing new countries to join. The 30-nation alliance has to approve any such expansion unanimously.
Long neutral, Sweden and Finland began to see NATO protection as urgent following Russia's invasion of Ukraine nearly a year ago. The two countries are within a missile strike of the Kremlin, should President Vladimir Putin make good on his threats to retaliate against pro-NATO sentiment in his perceived backyard.
Turkey's NATO allies are in a difficult position: The government in Ankara has insisted that the two Nordic nations stop offering refuge to Kurdish rebels opposed to the Erdogan government. And Erdogan has branded the opponents as terrorists who must be arrested and punished.
The Biden administration remains "deeply concerned" over the abuse of free expression and other human rights in Turkey, officials say, but is inclined to eventually go ahead with the sale.
"When it comes to the F-16s, President Biden said that as a general matter, he believes that we should sell Turkey the F-16 jets and modernize their existing fleet as well," State Department spokesman Ned Price said.
But, he added, "this is a process that involves Congress, of course, and … I don't think I'm betraying any secrets, because our partners on the Hill have been quite vocal about this as well … there are strong opinions on the Hill."
Those voices are led by Sen. Robert Menendez (D-N.J.), who chairs the Senate Foreign Relations Committee and in theory has the power to stop arms deals with foreign nations.
"President Erdogan continues to undermine international law, disregard human rights and democratic norms, and engage in alarming and destabilizing behavior in Turkey and against neighboring NATO allies,'' Menendez said in a statement late last week, after news of the informal notification of the sale to Turkey circulated.
"Until Erdogan ceases his threats, improves his human rights record at home — including by releasing journalists and political opposition — and begins to act like a trusted ally should, I will not approve this sale," Menendez added.
There are ways Biden can get around a congressional block on weapons transfers, through executive action or other steps, but State Department officials appear reluctant to pursue that course.
After his meetings in Washington, Cavusoglu spoke to Turkish reporters and acknowledged that the Sweden-Finland NATO question was looming over the talks but said it should not be a condition of the F-16 sale.
"What is important here is whether the administration will be decisive or not," Cavusoglu told Turkish state TV broadcaster TRT.
"The administration should not waste such an important deal between two allies just because one person or a few people are blocking it," he added. "It should not bow down."
Turkey is also a troublesome ally for the U.S. because of its friendliness to Russia, including expansive trade, the pursuit of arms deals with Moscow and an alliance with Russian forces in Syria. Turkey's acquisition of an air defense system from Russia six years ago led to Western sanctions amid fears Moscow could use the access to spy on NATO assets.
But Turkey's relationship with Russia also gives it a role in potential diplomacy to end Putin's war in Ukraine. Washington credits Ankara with opening up a corridor through the Black Sea to allow Ukraine to export millions of tons of grain to world markets despite a Russian blockade. At the same time, Erdogan has refused to join the West's imposition of tough sanctions on Moscow for its attacks on Ukraine.