Pervez Musharraf laid to rest; several retired and serving military officers attend funeral prayers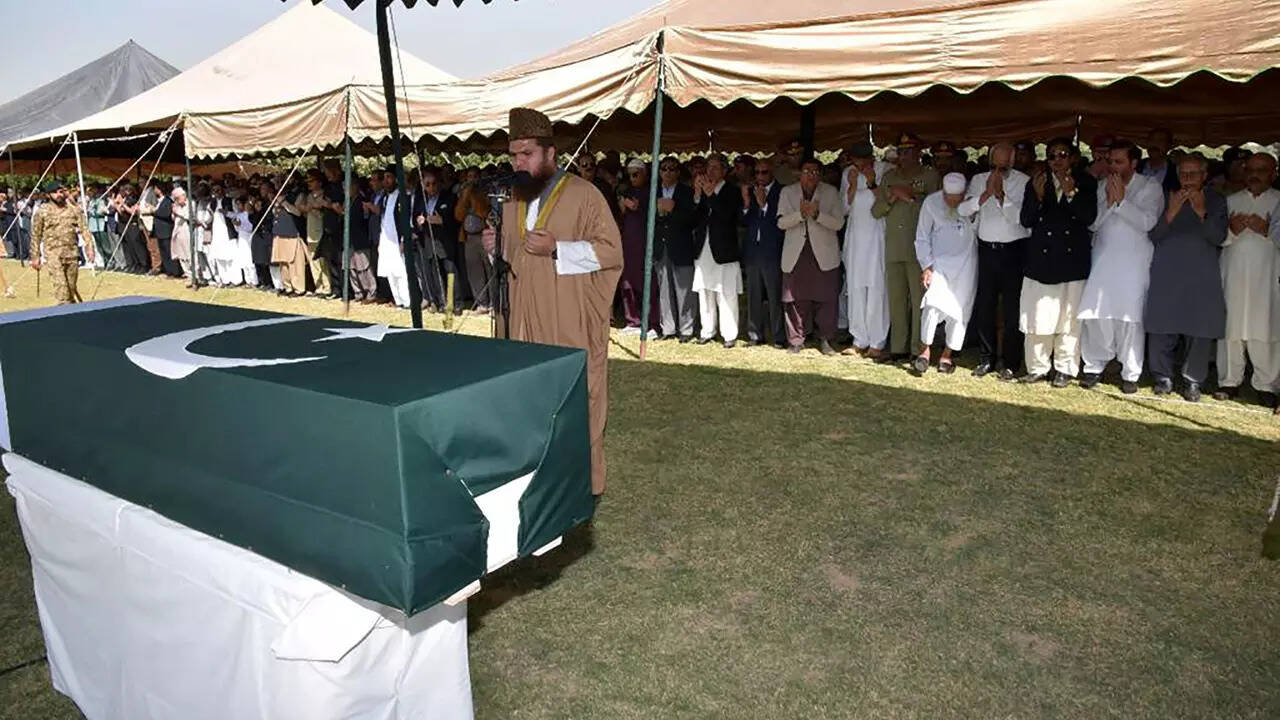 KARACHI:
Pakistan
's former military ruler General
Pervez Musharraf
was on Tuesday laid to rest with full military honours in an army graveyard here in the presence of his relatives and several retired and serving military officers.
The 79-year-old former president's funeral prayers were held at the Gulmohar Polo Ground in Malir Cantonment in the afternoon in a low key ceremony which was neither attended by President Arif Alvi, nor Prime Minister Shehbaz Sharif.
However, Joint Chiefs of Staff General Sahir Shamshad Mirza and former army chiefs – Qamar Javed Bajwa, Ashfaq Parvez Kayani and Aslam Beg – attended the funeral.
Former ISI chiefs – General (retd) Shuja Pasha and General (retd) Zaheerul Islam – and several serving and retired military officers also attended the funeral prayers.
Politicians including Muttahida Qaumi Movement (Pakistan) leaders Khalid Maqbool Siddiqi, Dr Farooq Sattar, Pakistan Muslim League-Nawaz leader Amir Muqam, Pakistan Tehreek-e-Insaaf leader and former Sindh governor Imran Ismail, former federal information minister Javed Jabbar, were also in attendance.
No top leaders from the ruling Pakistan Peoples Party in the Sindh province or the Jamaat-e-Islaami were present at the final rites.
Musharraf's coffin was draped in Pakistan's green and white flag, though the ceremony was not a state funeral.
The casket of Musharraf was then taken to the army graveyard reserved for top officials on Shahrah-e-Faisal and buried there with full military honours and protocol.
Tahir Hussain, who has been Musharraf's spokesman in Karachi since the ex-ruler formed his party – the APML – in October 2010, said a large number of military officials, senior bureaucrats and businessmen attended the funeral prayers under military security.
Musharraf, the architect of the Kargil War in 1999 and Pakistan's last military ruler, died on Sunday in Dubai after a prolonged illness. The former president was undergoing treatment for amyloidosis in Dubai. He was living in the UAE since 2016 in self-exile to avoid criminal charges back home.
Musharraf's mortal remains arrived here on Monday on a special flight from Dubai.
His wife Saba, son Bilal, daughter and other close relatives arrived with the body on the special aircraft of Malta aviation arranged by the UAE authorities.
The aircraft touched down at the old terminal area of the Jinnah International Airport amid heavy security with the former president's family and the body was taken to the Malir Cantonment area, officials said.
His mother was buried in Dubai while father was laid to rest in Karachi.
Musharraf enjoyed immense support and popularity among many but also hated and vilified by the bar councils, civil rights groups and political parties for his anti-democratic actions.
On Monday, sharp differences among political leaders came to the fore in Senate over the offering of prayers for the former military ruler. Pakistani Parliament follows a tradition of offering Fateha (prayers) for the departed soul when a leading politician or personality of the country dies.
The members of the Senate, the upper House of Parliament, hurled allegations against one another for supporting dictatorial regimes and violators of the Constitution when the issue of prayers for Musharraf came up.
The move of supplication was led by the leader of the opposition in the senate Senator Shehzad Wasim of the Pakistan Tehreek-e-Insaf party and supported by other members of his party.
When Senator Mushtaq Ahmad of rightwing Jamaat-i-Islami, who was about to lead a joint invocation for those killed in the earthquake in Turkey, was asked to also pray for Musharraf's soul, he refused by saying that he would only lead the invocation for the quake victims.
The refusal led to vociferous exchanges among lawmakers with some members reminding Senator Mushtaq that his party had also once supported Musharraf.
Later, the PTI lawmakers led by Senator Wasim, who was given a break in politics by Musharraf, offered a customary prayer while the treasury senators refused to join them.
The split in the upper House over offering a prayer for a dead person was rare and an apt reflection of Musharraf's chequered legacy.
Musharraf, who seized power after a bloodless military coup in October 1999 and ousted the elected government of former prime minister Nawaz Sharif, ruled Pakistan till 2008 as chief executive and President.
He was born in New Delhi in 1943 and migrated to Pakistan after Partition in 1947.