PM Modi trying to protect Adani & I understand why: Rahul Gandhi | India News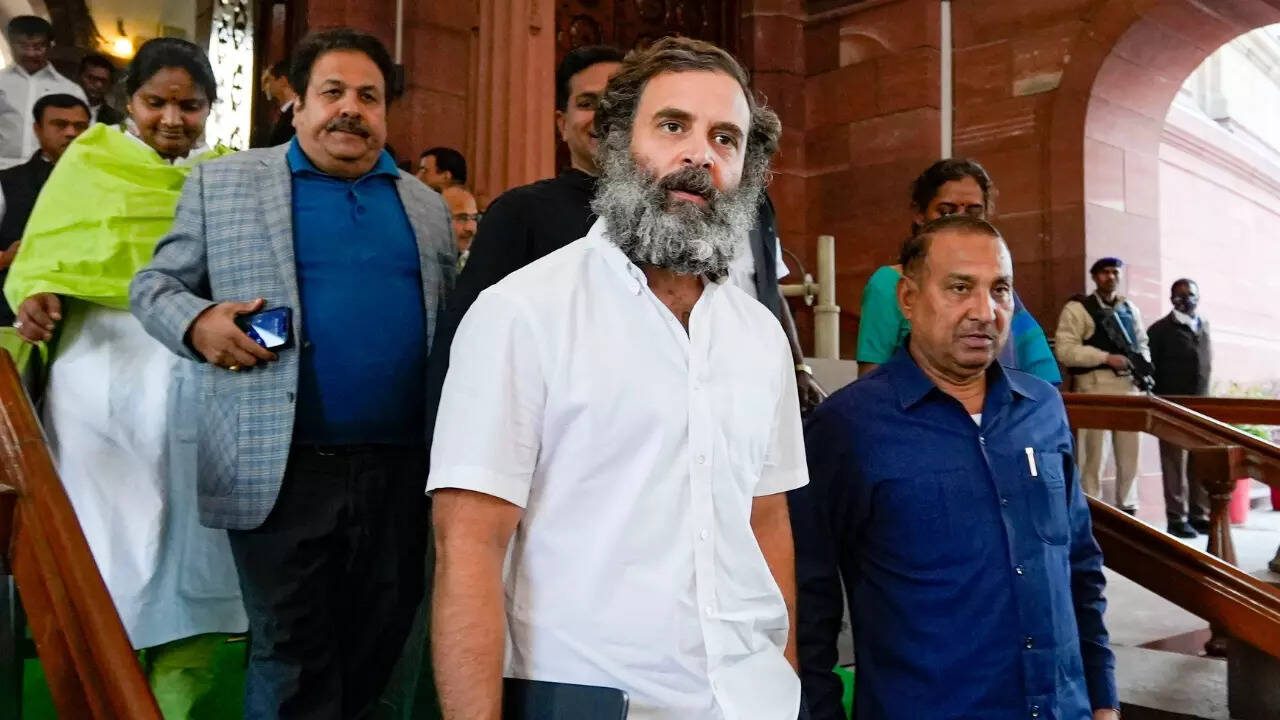 NEW DELHI: Congress leader
Rahul Gandhi
on Wednesday continued his tirade against Modi over the Adani issue, claiming that the Prime Minister is trying to "protect" the industrialist amid allegations of stock manipulation by US-based Hindenburg Research.
Speaking after the
Prime Minister's speech in Lok Sabha
, he said Modi did not answer the questions he had posed to him or nor did he order any inquiry into the allegations.
On Tuesday, Rahul had questioned
Gautam Adani
's alleged links with PM Modi and questioned the rise in the businessman's wealth since BJP came to power in 2014.
"I am not satisfied, but it reveals the truth. There was no talk of an inquiry. If he is not a friend, then he should have agreed to an inquiry. There was no probe into shell companies in defence sector and benami money is changing hands, but PM did not say anything on that.
"It is clear that the Prime Minister is protecting him," Rahul told reporters after Modi's reply to the motion of thanks on the President's address.
"He (PM) is surely trying to protect him (Adani) and I understand this and there are reasons for it," he also said.
Rahul further alleged that the Adani issue is a matter of national security and concerns the country's infrastructure.
"This is a very big scam. He did not even say that. He (PM) is surely trying to protect him (Adani) and I understand this and there are reasons for it," he said.
Asked if he got the answers to his questions, the former Congress chief said, "I did not get any reply from PM to my questions."
"The Prime Minister was shell-shocked. He was in shock and there was no answer. I have not asked any complicated question. I only asked how many times he (Adani) has gone with you. How many times did he meet you. I posed simple questions but got no answers," he said.
Earlier, in
Lok Sabha
, Congress leader Adhir Ranjan Chowdhury said Rahul hit the right chord by flagging the issue related to industrialist Gautam Adani, but insisted the party has no "personal issues" with Adani or Ambani.
"We want the country to grow and have more industrialists," Chowdhury said, participating in a debate on the Motion of Thanks to the President's Address in Lok Sabha.
Rahul Gandhi had led a blistering opposition attack in Lok Sabha over a report by US-based short-seller Hindenburg Research.
Rahul had claimed that the meteoric rise in Adani's fortunes happened after the BJP came to power in 2014 and rose in the global rich list from the 609th to the second spot eventually.
In his speech today, PM Modi indirectly mocked Rahul, saying that the entire "ecosystem" and their supporters were jubilant yesterday after "some people's remarks".
(With inputs from agencies)