Stud Country is queer-led line dancing in Los Angeles
At Stud Country, a weekly queer country and western line dancing class, there are no drinks allowed on the dance floor. To the couples and friends gathered for a night out under the glitter of a giant disco ball, this may seem counterintuitive. But once hundreds of boots start stomping and Wrangler-clad hips begin shaking, it starts to make sense.
Every Monday night, Stud Country draws a community of queer Angelenos and allies who pay $20 to line dance. Onstage at Club Bahia, founders Bailey Salisbury and Sean Monaghan — best friends who met 20 years ago in the punk scene at California College of the Arts in Oakland — wear pop-star microphones as they teach moves from a raised platform. Below them, dancers follow along, hooting and hollering every time they master even the simplest of steps.
While catering country and western line dancing to a queer crowd may seem like a novel concept to some, it's anything but. In Los Angeles, queer line dancing has a long history rooted in the now-defunct Studio City bar Oil Can Harry's. In 2017, Salisbury, who was raised by a dance teacher mother in San Luis Obispo, and Monaghan, who grew up Irish dancing in the Bay Area, began attending line dancing nights several times per week at Oil Can Harry's. Both country music lovers, they were hooked.
"Oil Can Harry's was the first place in L.A. I found a community," says Monaghan.
During the pandemic, the best friends scratched their Oil Can itch by teaching line dancing classes to friends via Zoom. Once it was safe, the duo's dance classes shifted from online to in person. In 2021, when the 52-year-old bar announced its closure due to new building ownership, Monaghan and Salisbury were just two of the many line dancers in Los Angeles without a queer-friendly space to convene.
"Starting Stud Country wasn't a business move at all — we were just grieving and we needed to dance again," says Salisbury.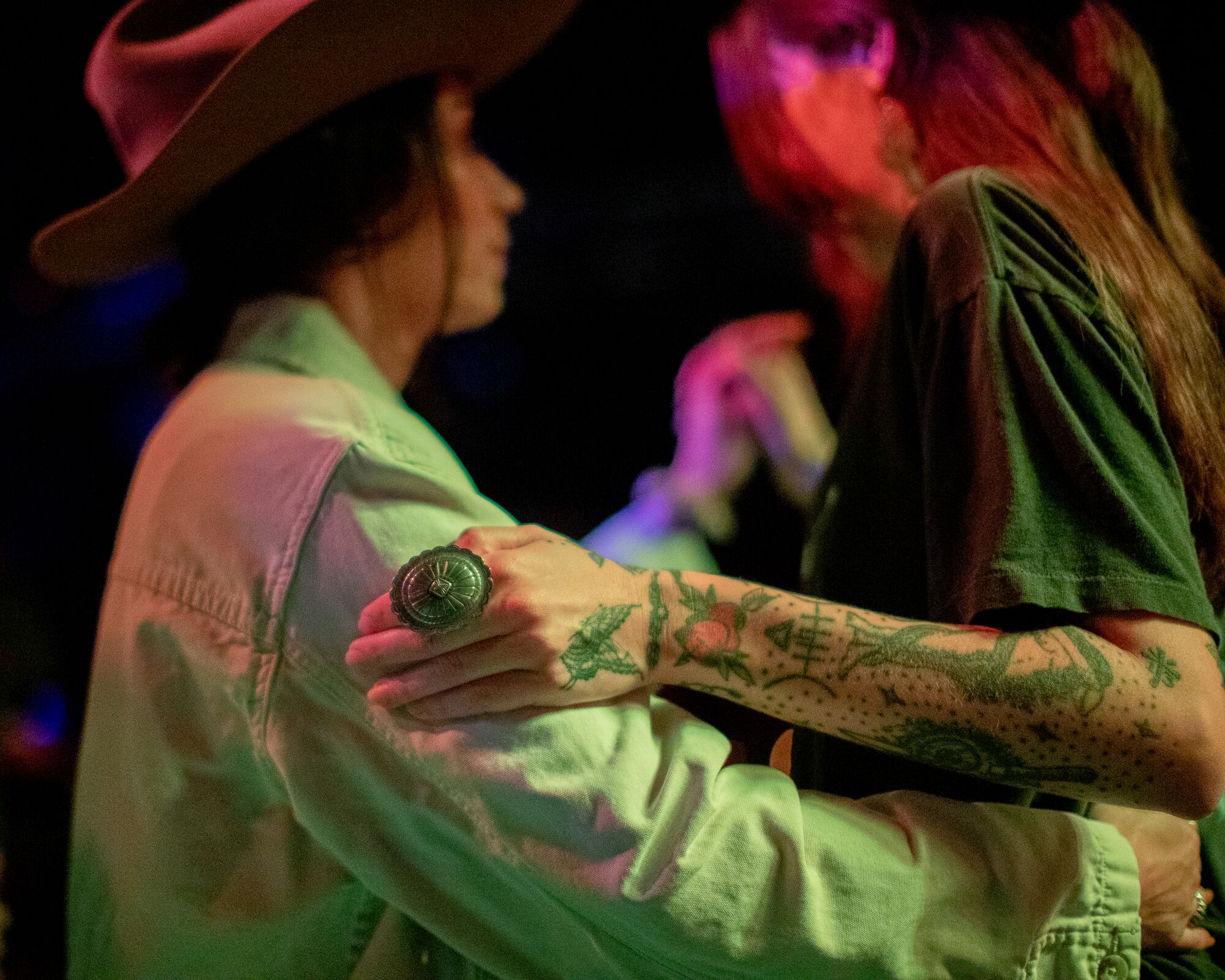 Half dance class, half dance party, Stud Country took its official form when the lessons moved to Plaza, a gay bar in West Hollywood, a setting better suited for social dance. In October 2022, Stud Country found its current home at Club Bahia, a large Latin music club in Echo Park.
"We thought, 'What if we do it our way, with our music?'" says Monaghan. "A lot of contemporary line dancing isn't to country music. We wanted to bring it back and strike that balance at Stud Country."
While there are plenty of other places to line dance in Los Angeles, Stud Country is unique in its queer experience, where same-sex couples can dance in peace — something that was illegal for much of the 20th century. Instagram videos have brought in a younger crowd in velvet tops and furry cowboy hats; they share the dance floor with Oil Can Harry's veterans in simple flannel shirts and jeans.
Every Monday, the night kicks off with free time to partner dance, where gender is disregarded as couples decide who leads and who follows in a two-step. After a few songs, count-by-count line dance instruction begins. Once a dance has been explained and practiced several times, it's time for music.
"The feeling when you finally get the dance makes you feel very connected with the people around you. You feel like you have succeeded when you're in lockstep with everyone else. It's a feeling of unity," says Imogene Strauss, a creative director and Stud Country regular. She's started practicing the dances on off nights in her basement.
After a few simple dance lessons, seasoned dancers are invited to jump into line dances they know by name — either from a past Stud Country event or elsewhere. While Stud Country is for everyone, novice dancers know that's the time for them to grab a drink or people watch. The night does its best to accommodate those ready to break into music video mode and those who aren't familiar with a jazz square or grapevine, a balance that may grow increasingly difficult as attendance rises.
Despite the art-school aesthetics of the night's merchandise and branding, Stud Country is more about honoring tradition than being trendy. Most dances taught at Stud Country aren't unique to the event or to queer dance nights. The majority are classic dances learned by the founders at Oil Can Harry's; others were picked up at events across the country. A few are Stud Country originals, with choreography by Monaghan — a rarity in line dancing, which is made up of a core group of dances that have traveled by oral instruction for decades.
"Line dancing is folk dancing, it's storytelling," explains Salisbury.
To the average Stud Country attendee, the history of line dance may not be apparent, and that's OK. A good time is likely whether you view the night as a fun Monday or a part of queer history. But to the founders, creating a space that is as authentic as it is camp is serious business.
Shane Kirkpatrick, who danced at Oil Can Harry's for 13 years, has been attending Stud Country for just over a month. A member of the L.A. Wranglers, a gay country-western performance group and nonprofit organization, he was inspired by seeing Stud Country continuing the tradition.
What: Queer-led line dancing with Stud Country
Where: Club Bahia, 1130 Sunset Blvd., Los Angeles (through April)
When: Mondays, doors open at 8 p.m., lessons start at 8:30 p.m.
How much: $20
"Country dance in the gay community is the last bastion of social dancing where you have physical contact with another person, converse with another person, and make a connection that's not anything other than dancing," he says.
As soon as word-of-mouth caused attendance to quadruple, the founders received news that Club Bahia's building was sold for possible redevelopment. It is set to close sometime this spring. With independent venues being swallowed by corporate promoters and a lack of large enough dance floors, the founders anticipate a challenge finding a new home and hope to follow Club Bahia wherever it moves next. Stud Country pop-up events are set to launch in San Francisco, where Salisbury now lives, and New York City. The founders dream of going on tour and even opening their own dive bar with a dance floor. But in the meantime, the Bahia dance floor will do.
If you show up next Monday, by March you can help a new Stud when they ask what a "kick-ball-change" is.