Turkey: Children found alive as Turkey-Syria quake toll tops 22,000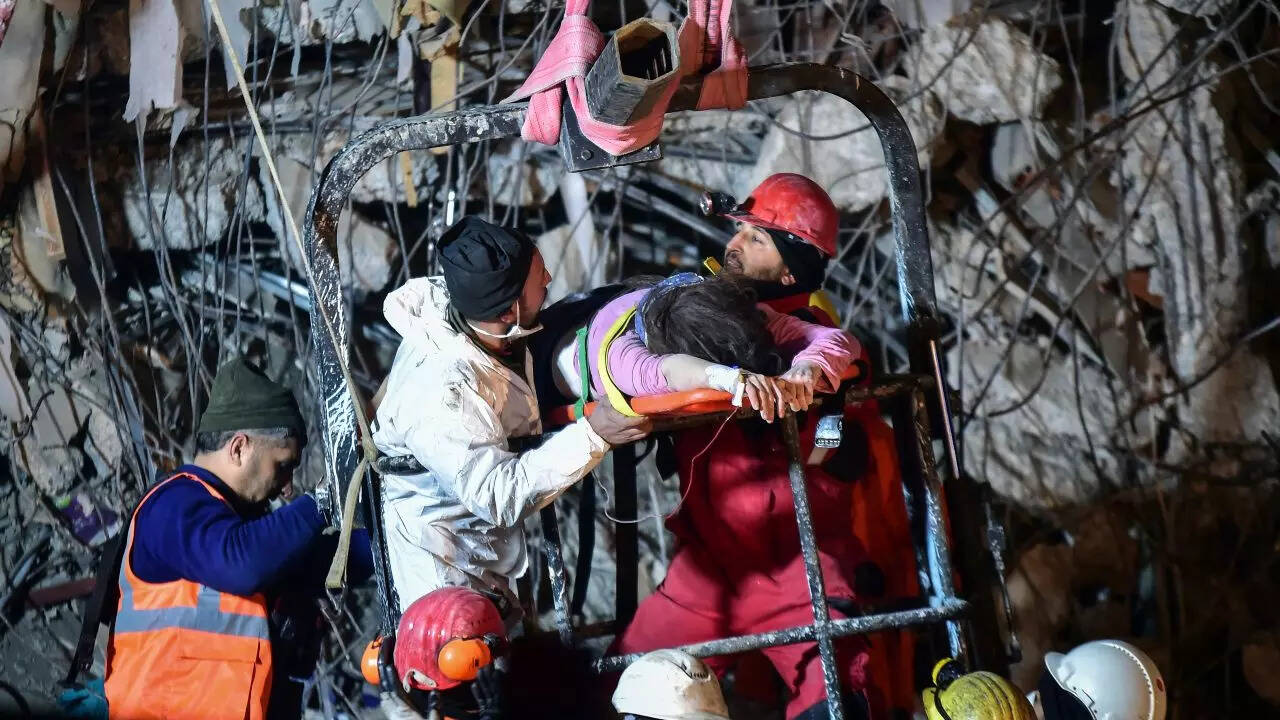 KAHRAMANARAS: Rescuers pulled children alive Friday from the rubble of the Turkey-Syria earthquake as the toll surpassed 22,000 and bitter cold compounded the suffering of the homeless.
In the Turkish city of Kahramanmaras, one of those hit hardest by the region's worst earthquake in nearly a century, the stench of death clung to the air.
But as crews entered a fifth day of peeling back flattened buildings, Turkish media reported rescues of young children, long after the expiration of the 72-hour window when survivors are considered most likely to be found.
In the 105th hour, rescuers pulled 18-month-old Yusuf Huseyin from the debris in the southeastern city of Antakya. Twenty minutes later, they rescued seven-year-old Muhammed Huseyin, NTV news channel reported.
Three-year-old Zeynep Ela Parlak was also rescued in Antakya on Friday, while in Adiyaman province, rescuers saved a 60-year-old Eyup Ak and in Gaziantep, two people were pulled out alive including a child whose age was not known.
"Half an hour ago, we managed to rescue two living people out of the rubble," the Czech fire service tweeted Friday of their teams in southeastern
Turkey
's Adiyaman.
On Thursday, rescuers pulled a 10-day-old baby and his mother out alive after 90 hours trapped in hard-hit Hatay province, Turkish officials said.
The baby boy named Yagiz Ulas was swiftly wrapped in a thermal blanket.
Bodies flown home
Turkey's miners, expert in rescuing their own colleagues, told how they rushed to help people trapped by Monday's 7.8 magnitude quake.
"Our hearts couldn't take this," said miner Ismail Hakki Kalkan.
Yet the bodies of seven Cypriot children, as well as two teachers and a parent killed by the earthquake in Adiyaman were flown home on Friday, with Turkish media reporting that 19 children in the group died.
Two dozen children aged 11 to 14 from the island, along with 10 parents, four teachers and a volleyball coach, were in Turkey for a school tournament and had been staying in a hotel that was destroyed.
In a region home to many displaced and traumatised by
Syria
's civil war, worries were growing over the many people left without shelter amid freezing temperatures.
UN aid and rescue teams have arrived, while the US Agency for International Development offered a $85-million package including food, shelter and emergency health services.
World Health Organization head Tedros Adhanom Ghebreyesus and UN humanitarian chief Martin Griffiths have both announced upcoming visits.
"As this tragic event unfolds, people's desperate plight must be addressed," said the president of the International Committee of the Red Cross, Mirjana Spoljaric, who travelled to quake-hit Aleppo in Syria.
Outlawed Kurdish militants are temporarily suspending "operations" in Turkey after the massive quake in the country and Syria, a PKK leader said.
Aid reaches rebel areas
"Thousands of our people are under the rubble. Everyone must mobilise using all their means," leader Cemil Bayik was quoted as saying late Thursday by ANF, a news agency close to Kurdistan Workers' Party (PKK).
The first aid deliveries to rebel-held northwestern Syria since the quake arrived on Thursday, an official at the Bab al-Hawa crossing told AFP.
A decade of civil war and Syrian-Russian aerial bombardment had already destroyed hospitals, collapsed the economy and prompted electricity, fuel and water shortages.
UN Secretary-General Antonio Guterres urged the Security Council to authorise the opening of new cross-border humanitarian aid points between Turkey and Syria.
"This is the moment of unity, it's not a moment to politicise or to divide but it is obvious that we need massive support," Guterres said.
Temperatures in the Turkish city of Gaziantep, located near the epicentre of the quake, plunged to minus three degrees Celsius (26 degrees Fahrenheit) early Friday.
Despite the cold, thousands of families have been living in cars and makeshift tents — too scared or banned from returning to their homes.
Gyms, mosques, schools and some stores have opened at night. But beds are scarce, and thousands spend the nights in cars with engines running to provide heat.
'Quiet is agonising'
Monday's quake was the largest Turkey has seen since 1939, when 33,000 people died in the eastern Erzincan province.
Officials and medics said 18,991 people had died in Turkey and 3,377 in Syria from Monday's tremor, bringing the confirmed total to 22,368.
Experts fear the number will continue to rise.
Anger has mounted over the government's handling of the disaster.
"People who didn't die from the earthquake were left to die in the cold," Hakan Tanriverdi told AFP in Adiyaman province.
On a visit to the area, Turkish President Recep Tayyip Erdogan admitted there had been "shortcomings" in the government's handling of the disaster.
In the devastated Turkish town of Nurdagi, close to the epicentre, emergency workers using drones and heat detecting monitors ordered silence when a potential survivor was found.
"The quiet is agonising. We just don't know what to expect," Emre, a local resident, said as he waited next to one block on a main road into the town.