Watch: Drunk truck driver drags car with 4 passengers onboard for 3 km in UP!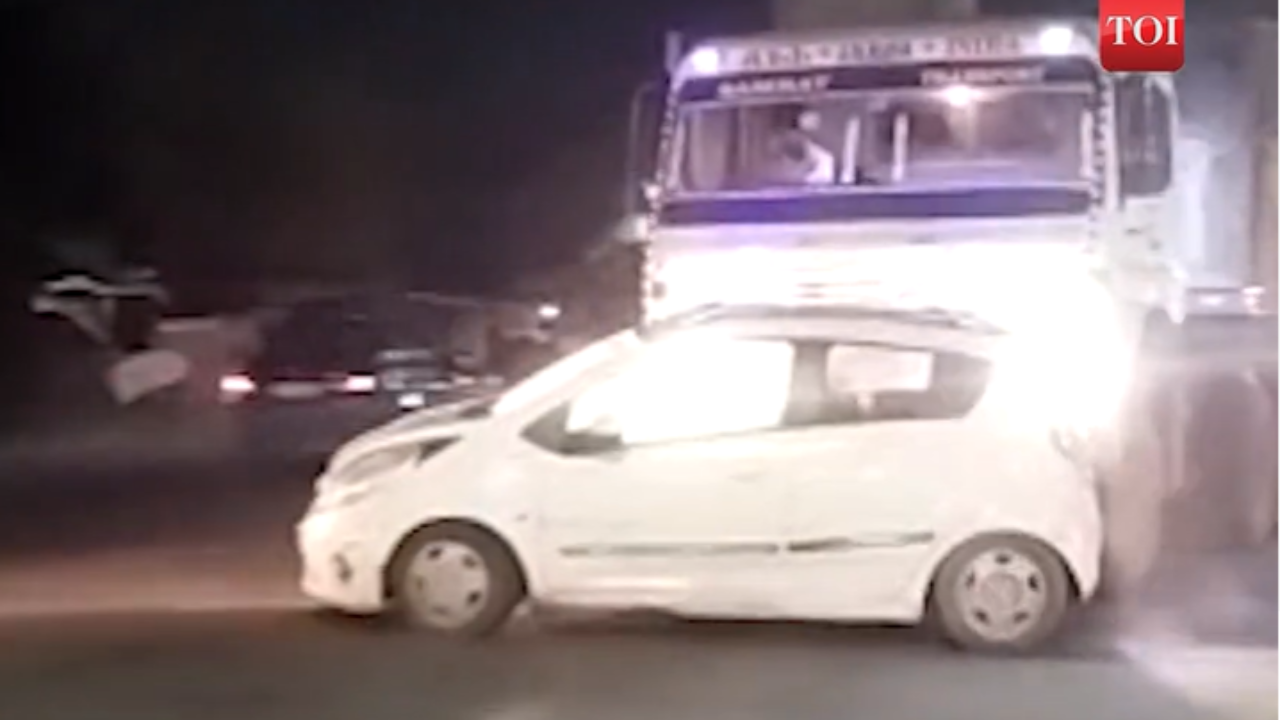 In yet another terrifying drag-and-run incident, a 22-wheel container truck hit a car in Meerut, Uttar Pradesh and then dragged it for about 3 kilometres as bystanders looked on in shock. Visuals of the Chevrolet Beat hatchback being pushed by the truck at a relatively high speed, are now viral on social media. Fortunately, all four occupants of the car managed to escape without any serious injuries, after jumping out of the car in time.
Watch the video of the incident captured by an onlooker below –
Watch: Moments when drunk truck driver drags car with 4 passengers for several kilometres in UP's Meeruthttps://t.co/xHBejp9o1X

— The Times Of India (@timesofindia) 1676264065000
As per the account of local witnesses, the car was dragged by the intoxicated truck driver following an altercation between him and the car occupants. The drunk truck driver then allegedly try to flee the scene, however, he was apprehended by cops soon after.
The hit-and-drag incident comes only a day after a speeding truck hit a horse-driven cart used in weddings carrying five people in Meerut. Three people, including two brothers, were killed in the incident and the remaining two suffered injuries, police said.
Hyundai Ioniq 5 test drive review: Beyond brilliance! | TOI Auto
Just over a week ago, TOI Auto had reported about another hit-and-drag incident involving a traffic police constable, who was dragged on the bonnet of a car for about 2 kilometres in Ghaziabad, Uttar Pradesh. Similar incidents continue to be reported across the country at an alarmingly high rate, even resulting in deaths in many cases. The infamous Kanjhawala hit-and-drag incident shocked the entire country last month, when a woman riding a scooter was hit and then dragged under a car leading to her demise